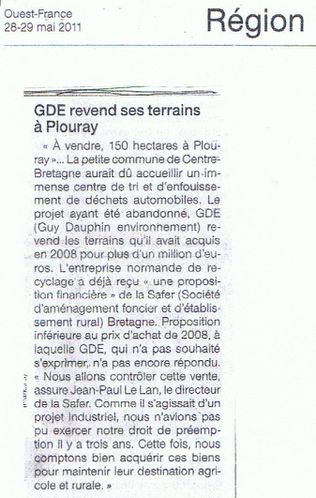 "For sale, 150 hectares in Plouray"...
A huge waste sorting centre and shredded car residues landfill site was to be set up this small village in central Brittany. Having given up its project GDE (Guy Dauphin Environnement) has decided to sell the land it had bought for more than 1 million Euro in 2008. The Normandy recycling company has already received a "financial offer" from SAFER* (Société d'Aménagement Foncier et d'Etablissement Rural) Bretagne. This offer is is lower than the 2008 buying price. GDE, who did not wish to comment, has not replied yet.
"We will follow up this sale" says Jean-Paul LE LANN, SAFER Manager, "3 years ago, since there was an industrial project, we were not allowed to preempt. This time we do intend to buy in order to keep the land as farm land"
* SAFER is a private body, acting on behalf of the Government to regulate the sales of farm land
We received the information just before the ARDIMEA walk. Facing the tenacity of the Plouray population and the NPCB association who were strongly backed up by 16 Communautés de Communes, 124 Communes as well as a number of elected people, GDE could only yield.
We are very pleased of that…
… but Guémené-Penfao is at risk of an increased pressure.
We need to gather for reacting.
Since ARDIMEA was set up in 2008, the association has claimed that:
If waste land filling is necessary, the choice of the site must not be left to industrial companies. It must be decided by the elected body in charge of waste management (Conseils Régionaux) acting in consultation with the population.

Before granting authorisation to an industrial company, the Government must make sure that such company is complying with the existing law. It is not the case with GDE as the Plouray public inquest officers witnessed in Montoir de Bretagne

The land bought by GDE at Fry

must

be handed back to farmers as farm land.

Article L 143-4 of Code Rural, which allows that "any industrial company can buy any farm land providing he has an industrial project" must be modified. It is that article which prevented SAFER from preempting.